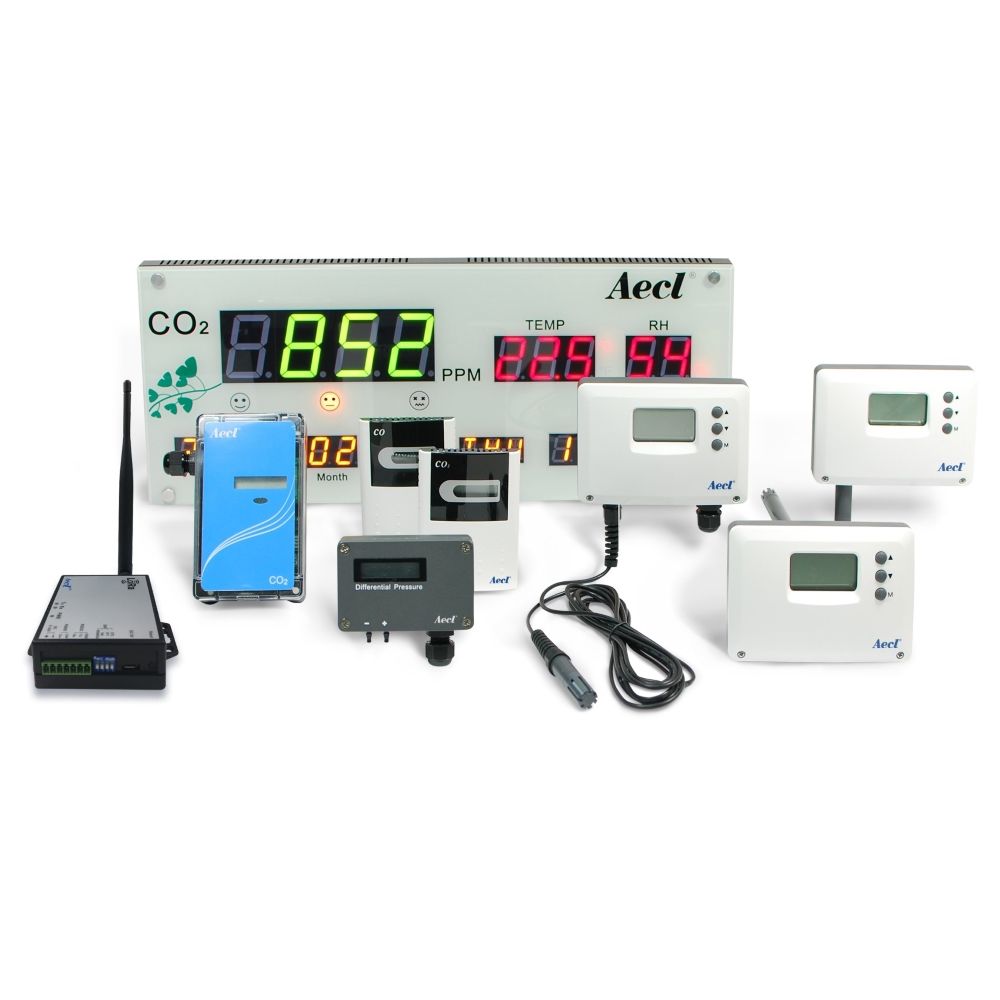 LoRa Indoor Air Quality Sensors
Wireless Sensors and Monitor for indoor air quality and environmental monitoring
Aecl develops a private LoRa network based on the Semtech RF technology which features high interference immunity. Using the industrial standard Modbus RTU protocol, system integrators could easily integrate the existing field devices into the wireless network.

The devices for the private LoRa network include the master gateway, RS485 to LoRa converter and transmitters for temperature, humidity, CO2, CO, HCHO, TVOC, PM2.5, PM10, Oxygen and illuminance measurement.
---
Full Catalogue 2022
Explore more about Aecl Whole series products.

Download
Have any Question?
Call Us :
Tel: +886 2 2223 5889 ext.5505
Thank You.
More Details
LoRa Indoor Air Quality Sensors | Automation System & Control | Industrial Equipment Supplier - Aecl
Based in Taiwan, Autotronic Enterprise Co., Ltd. is an industrial equipment supplier of automation system controllers and signal converters since 1976.
As an industrial equipment supplier of automation environmental sensing, liquid measurement and analysis, Aecl provides total automation system control solutions particularly for air quality and temperature & humidity automation control fields. Flow control devices such as paddlewheels, magnetic and turbines, environment measurement equipment such as temperature & humidity transmitters, heat (BTU) meters & calculators and ultrasonic flowmeters, and GF valves and GF signet as a distributor in Taiwan.
Aecl has been offering customers high-quality and reliable automation system controllers, signal converter manufacturing and control systems, analyzers and automation solutions with professionalism. Both with advanced technology and 40 years of experience, Aecl ensures each customer's demands are met.
View our quality products
Air Quality Display
,
Temperature and Humidity Transmitter
,
Heat (BTU) Meter & Calculator
,
Ultrasonic Flowmeter
,
Water Leak Alarm
,
Gas & CO Detector
,
Arrester for Telecommunication Devices
,
Batch Controller System
,
Flow Sensor
,
Manual Ball Valve
,
Multi-Function Ultrasonic Level Transmitter
,
Ultrasonic Level Switch
,
Liquid & Gas Flow Switch
,
USB to RS-485 Serial Port Converter
,
Two-Wire Isolated Temperature Transmitter
,
Loop Power Isolator
,
DC Converter
,
DC Limit Alarm
,
Power-Use Arrester
,
Photoelectric Beam Sensor
,
Outdoor PIR Sensor
,
Reflective Photoelectric Beam Sensor
,
Differential Pressure Sensor
and feel free to
Contact Us
.